Honey Berry Cristo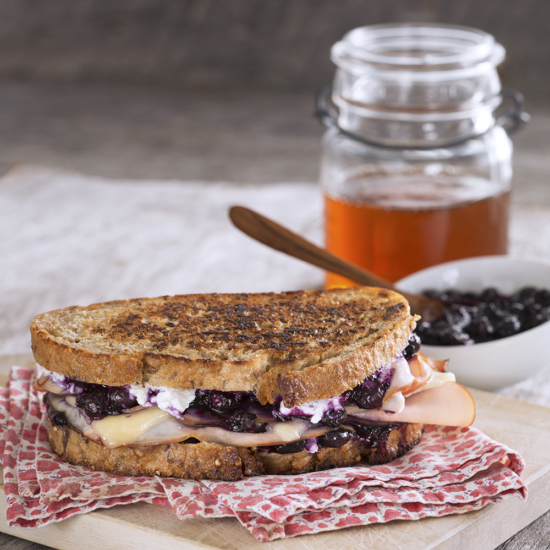 INGREDIENTS
8 slices - whole grain bread
1/2 cup - goat cheese, softened
32 thin slices - black forest ham
8 slices - havarti cheese
For Honey Glazed Blueberries:
1/2 cup - blueberry honey
2 cups - fresh blueberries
2 tsp. - lemon juice
DIRECTIONS
For Honey Glazed Blueberries: Place blueberry honey, blueberries and lemon juice in a small saucepot and stir to combine evenly. Heat over medium heat for approximately 5 minutes to reduce the mixture until it turns into a syrupy preserve-style consistency. Lightly smash the cooked blueberries with a spoon to give it a rustic preserve feel. Remove from heat, place mixture into a small container and chill in the refrigerator. Keep chilled.
Evenly spread each slice of whole grain bread with approximately 1 T of softened goat cheese.
Build the Sandwiches: Place one slice of bread (goat cheese spread facing up) on a clean counter. Top with 2 T of the chilled honey glazed blueberries, cover with four overlapping slices of black forest ham, then place two overlapping slices of havarti cheese, then top with four more overlapping slices of black forest ham, then cover with 2 T of the chilled reserved honey glazed blueberries. Finally, place one slice of bread (goat cheese spread facing down) on top to create one sandwich. Repeat for the three remaining sandwiches.
Cook the Sandwiches: Pre-heat oven to 350° F. Heat a non-stick sauté pan over low-medium heat. Lightly spray the pan with vegetable spray. Place the sandwiches into the pan and cook for approximately 1-2 minutes per side, or until the sandwiches are an even golden color and crispy on both sides. Remove browned sandwiches from the sauté pan and place on a sheet pan. Place in the oven and cook browned sandwiches for approximately 5 minutes - or until the sandwich is hot throughout and the havarti cheese is fully melted.
Remove the sandwiches from the oven. Place on a clean cutting board, and slice each sandwich in half.
Serve and enjoy!
Recipe courtesy of Chef Rob Corliss, made for the National Honey Board
TIP
Use the Honey Glazed Blueberries in multiple applications - as a topper for pancakes/waffles/French toast, as a spread on other sandwiches or wraps, as a dip for baked sweet potato fries or as part of a fruit and cheese platter.
This recipe was inspired by the Monte Cristo sandwich. We modernized it with a honey-inspired twist and omitted the egg batter coating, making this a star for breakfast, brunch or anytime you are craving a delicious sandwich.
Placing the browned sandwiches in a 350° F oven, helps to thoroughly heat the ham and fully melt the havarti cheese in the middle of the sandwich. You can cook the sandwiches entirely in a non-stick pan, if desired, but you will need to lower the heat on the burner so the sandwiches don't get over browned.
You can also use an electric griddle, Panini style press or a waffle iron to lightly press and cook the sandwiches.
Substitute thin deli sliced turkey for ham, or do a turkey and ham combination.
Substitute cream cheese for the goat cheese.
Substitute Swiss or Monterey Jack cheese for the havarti cheese.
Dust the finished sandwiches with a touch of powdered sugar for additional flavor and fun visual appeal.